*OspreyFX would like to state that traders should research extensively before following any information given hereby. Any assumptions made in this article are provided solely for entertainment purposes and not for traders to guide or alter their positions. Please read our Terms & Conditions and Risk Disclosure for more information.
A financial asset price moves either up or down. This limited evolution means that external factors affect the upward or downward trends of an asset. Historically, patterns have been observed in the economy as well as the financial sectors. These fluctuations are reflected in trading charts in the shape of sequenced candlesticks usually indicating a specific price outcome. Eventually, traders observed these formations and detected common Forex patterns that make up a key part of technical trading strategies. In this article, we go over the most popular patterns and what they mean when they show up in the charts.
What is a Candlestick?
When an asset's price changes, the movement upwards or downwards is represented by a candlestick bar. A candlestick is the way information is displayed in a chart and it is a widely used component of technical analysis. Traders can read the candlesticks to interpret price data in a fast and efficient manner. In a single day's trading chart, a candlestick has three basic features you should know about:
The body symbolizes the open-to-close range
The wick points to the intra-day high and low
The color reveals the direction of market movement (green or white refers to a price increase, while a red or black is a decrease)
Candlestick clusters form patterns that traders identify to find opportunities. Familiarizing yourself with the basics can help you make informed decisions while trading.
Learn How to Read Patterns
Nothing replaces good old experience to learn how to identify and analyze candlestick patterns. So don't give up if it doesn't come easy to you, continue to practice entering and exiting trades following the signals you've interpreted. You can also develop your analysis skills in a risk-free way by using a demo account.
While candlestick patterns offer reliable indications of the market's movement, not all patterns are created equal. Thus it's important to check other indicators and historical data to truly assess short- and long-term profit opportunities.
Traders have long relied on the popular candlestick patterns we cover in this article, yet they are time-sensitive:
Patterns work within the limits of the chart being viewed (intraday, daily, weekly or monthly).
Candlestick potency decreases after the pattern is complete.
Thomas Bulkowski built performance rankings for candlestick patterns in 2008, he identifies the two types of expected outcomes:
Reversal – Candlestick reversal patterns predict a change in price direction
Continuation – Continuation patterns predict an extension in the current price direction.
In the patterns listed here, the hollow white candlestick signifies a closing print higher than the opening print, and the black candlestick indicates a closing print lower than the opening print:
Evening and Morning Star
Three Black Crows and Three White Soldiers
The Railroad Tracks
Doji
The Evening And Morning Star Candlestick Patterns
If you like to trade reversals, the evening star and morning star are two of the most popular patterns for this trading style. They begin with a candle in the direction of an ongoing trend. Then a small-bodied candle follows before a strong candle in the opposite direction to the previous trend occurs.
The evening star candlestick pattern commonly happens at the top of a trend to suggest a reversal to the downtrend. While the morning star happens at the bottom of a trend to indicate a reversal to the uptrend. The small candle in the middle has an important role, it is the key to figuring out why these two patterns signal reversals. Indeed, the middle bar reflects the hesitation in the markets. At this point, investors and traders are typically unsure whether the next direction will be an uptrend or a downtrend. If there is a stronger candle in the opposite direction of the previous trend, that's the signal that the market is moving towards a reversal. Things to keep in mind about the evening and morning star candlestick patterns:
The names refer to the star shape of the chart reading.
If you trade this candlestick pattern look for a confirmation candle in the direction of the expected reversal.
The Three Black Crows And The Three White Soldiers
When you see three consecutive and strong bearish candles, you're looking at the three black crows pattern. Its bearish opposite is known as the three white soldiers. These crows and soldiers are considered the most effective and widely used patterns in the Forex trading world. According to their position on the charts, they usually suggest a trend continuation or reversal. Therefore, if any of these two patterns occur in the same direction of an ongoing trend, they signal continuation. However, when they appear in the opposite direction to the previous trend, traders usually expect a reversal.
You can identify the three black crows reversal pattern as it begins around the high of an uptrend, with three bars showing lower lows closing near intra-bar lows. This means that the decline will continue and potentially trigger a downtrend.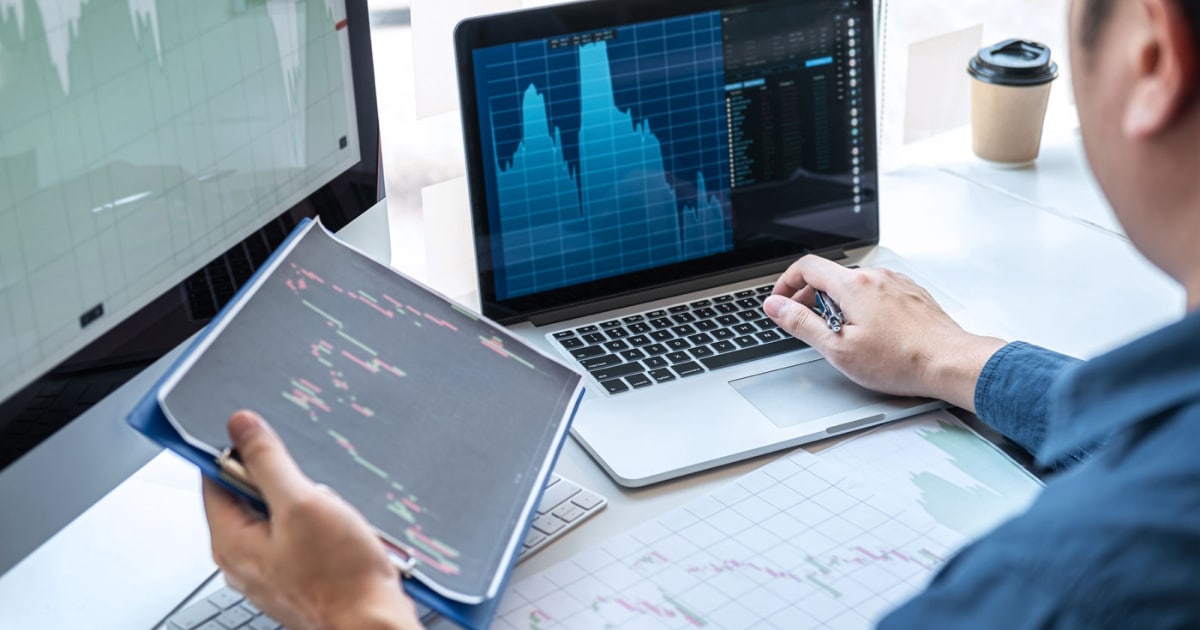 The Railroad Tracks Candlestick Patterns
Just like many candlestick patterns that come in twos or threes, railroad tracks clearly suggest a reversal. This type of pattern is easy to spot on the charts and is usually recognized by opposing sticks next to each other.
This is what you need to know about railroad tracks:
A bullish pattern begins with a bearish candle and ends with a bullish one.
A bearish railroad track pattern starts with a bullish candle and ends with a bearish one.
This type of chart reading is often interpreted as an asset price that matches the momentum of a previous strong candle yet in the opposite direction.
The Doji Candlestick Pattern
Sometimes a chart will look neither bullish nor bearish. This is known as the Doji candlestick pattern. It is recognizable from having short wicks and a negligible body, in the shape of a plus sign. Basically, the Doji occurs when the market is undecided in the next direction. So the neutral position doesn't allow for a reversal or a continuation. This is a powerful pattern because it can be found anywhere on the charts. Moreover, the unknown trend says something valuable about the asset.
However, there are some indications you learn to identify that can give an idea of the upcoming direction in the presence of a Doji pattern. Indeed, when the candles preceding and following the Doji are opposites, it usually suggests a reversal is likely to happen. When several Doji patterns occur repeatedly, it may be a sign that the asset price has lost its momentum.
Keep in mind that the Doji pattern shows a struggle between the buyers and sellers that eventually lead to no clear gain on either side.
Conclusion
It's not easy to isolate a couple of candlestick patterns and claim they are the only efficient ones for Forex trading. Indeed, there may be more effective patterns out there. However, it's all about your own objectives, preferences, and trading style. While the ones we covered in this article may not fit your strategy at the moment, they are the most common candlestick patterns, and it's helpful to be aware of them. Here's a summary of what you need to remember about candlestick patterns:
Historically, candlesticks patterns have been used as trading tools to predict price direction.
Many signals may not work as reliably in the electronic environment.
Candlesticks patterns may not give you the full overview about a price movement, always consider previous data of a currency pair before making your final decision.
Always combine candlestick patterns with other trading tools.
Don't wait for the perfect pattern to emerge in order to trade.
Want to Trade Forex?
OspreyFX is the perfect partner to help you on your trading journey. We pride ourselves on offering our traders the right tools needed to ace the markets, traders can now trade with better insight with our Forex Calculators. 
Challenge Yourself!
Try our Funded Accounts with up to $100,000 under management and prove you can profitably trade Forex, Cryptos, Metals, Commodities, and Indices.
Add an Extra Source of Income to Your Strategy
Join the OspreyFX Affiliate Program today!
Sign Up